Voice over IP has quickly become the most economical means of communicating in the global economy. As companies turn to the Internet as the cheaper alternative to costly telephone and conferencing services Xiitec is here to help you optimize your precious resources without sacrificing utility or accessability.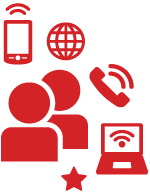 Make calls from anywhere with an internet connection
Keep your phone number
Bye bye long distance charges, the internet is local everywhere!
Take your business around the world at a fraction of the cost.
No hidden roaming charges, no matter where your business finds you.
No matter what your specialization or user level, communication is an essential business service, let us help you get more out of your budget!